Blending Experiences

— Experience Not Currently Available Under Current State Restrictions —

Become a winemaker by tasting through the barrel lots, trialing different blends and crafting your own unique cuvée. Enjoy a glass or take home your blend in a reusable growler.

Signature Blending Experience
The experience begins by selecting red or white wine varietals to blend. Start sampling, take notes in your passport, then blend!
Cost to blend is $20 per person, or $15 for Club Members, Owners and their guests. This experience takes approximately 30 minutes. Reservations are not required. Each blending station can accommodate up to three guests.
If you enjoyed your blend, purchase a glass or take your blend home in one of our reusable growlers (750mL).

Glass of Your Blend | $10
Willamette Wineworks Growler | $6
Growler Fill (750mL) of Your White Blend | $25
Growler Fill (750mL) of Your Red Blend | $35

Private Blending Experience
Join a knowledgeable and friendly Winery Ambassador for a Private Blending Experience to be guided through an in-depth blending experience. Taste through each barrel lot while learning stories about the varietal and appellation of the wines. Then, try your hand at blending to craft your own unique cuvée. Cost per person for is $40 per person, $30 for Club Members and their guests. The experience is expected to last between 60 and 90 minutes.
Please call us at (916) 542-7417 to make a reservation.

Blending Wines
The wines you'll be tasting and blending are Natoma Wines, made in California by Winemaker Jason Driscoll.
Reds
Cabernet Sauvignon, Napa Valley
Merlot, Napa Valley
Zinfandel, California
Grenache, Russian River Valley
Whites
Chardonnay, Napa Valley
Sauvignon Blanc, Napa Valley (aged in wood barrel)
Sauvignon Blanc, Napa Valley (aged in stainless steel)


---
Behind the Blending Experience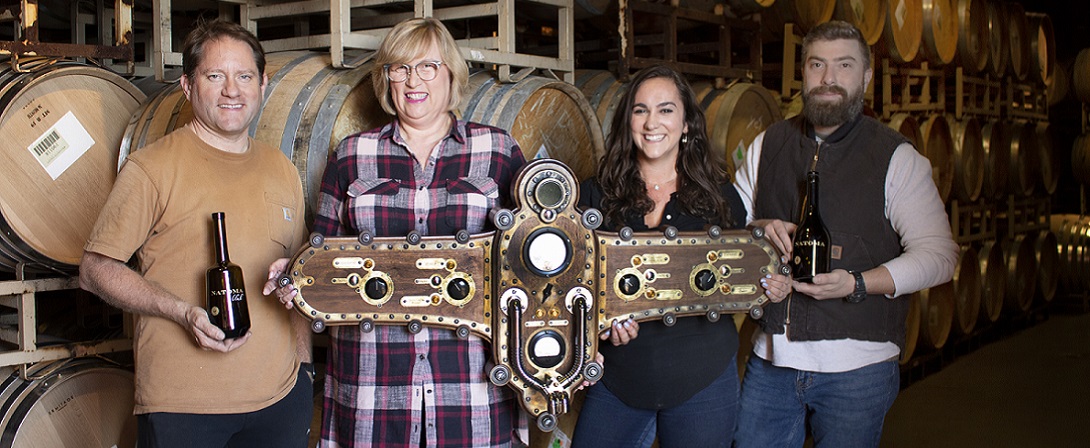 Four Willamette Valley Vineyards team members collaborated to create this experience, where individual varieties continue to develope in barrel allowing customers to blend their own, one-of-a-kind wines. Pictured Left to right: Kyle Gunsul, technical developer; Kathy Shannon, steam punk decor advisor; Laurel Titus, project manager; and Brandon Shelby, wine production manager.