Blending Experiences

Become a winemaker by tasting through the barrel lots, trialing different blends and crafting your own unique cuvée. Enjoy a glass or take home your blend in a reusable growler.

Blending Experience
The experience begins by selecting red varietals to blend. Start sampling, take notes in your passport, then blend!
Cost to blend is $25 per person, or $15 for Club Members, Owners and their guests. This experience is approximately 60-90 minutes.
If you enjoyed your blend, purchase a glass or take your blend home in one of our reusable growlers (750mL).

Interested in taking part in a Blending Experience? Contact us at (916) 542-7417 to make a reservation or add this experience onto your existing reservation.

---
Blending Wines
The wines you'll be tasting and blending are Natoma Wines, made in California:
2020 Grenache, Ca El Dorado Sierra Foothills
2020 Syrah, Ca El Dorado Sierra Foothills
2020 Mourvedre, Ca El Dorado Sierra Foothills
2020 Barbera, Ca El Dorado Sierra Foothills
---
Behind the Blending Experience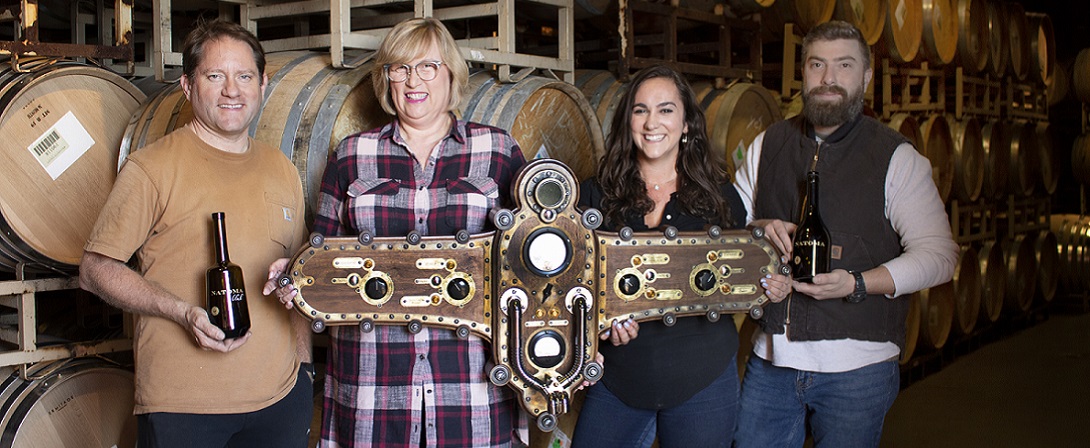 Four Willamette Valley Vineyards team members collaborated to create this experience, where individual varieties continue to develop in barrel allowing customers to blend their own, one-of-a-kind wines. Pictured Left to right: Kyle Gunsul, technical developer; Kathy Shannon, steam punk decor advisor; Laurel Titus, project manager; and Brandon Shelby, wine production manager.